What makes Oregon boys hockey junior Andrew Jicha such a prolific goal scorer
OREGON — Andrew Jicha has a knack for scoring goals.
That ability began years ago and continues to this day with shooting practice on a carpeted area in his family's basement, where the Oregon junior winger said a regulation-sized hockey net is his target.
"We got that net when I was about 7," the 17-year-old Jicha said. "I'm down there with my dad (John Jicha) a lot, just working on my shot. He feeds me tennis balls, and I just shoot for hours."
The 6-foot-1, 185-pound Jicha (pronounced Jakey) said he started skating when he was 2 years old and playing ice hockey when he was 3.
"It's just a great game," Jicha said after a recent practice at the Oregon Ice Arena. "I've met some of my closest, best friends on different teams in Oregon. I love the speed of it, how it's a continuous game. There are not a lot of stoppages. The boys in that locker room make it great. It's just really fun coming here every day and seeing those boys after a long day at school."
Jicha was the state's leading goal scorer last season when the Oregon boys hockey team reached the WIAA Division 2 sectional finals.
Jicha, the Oregon program's all-time leader in goals scored, once again is among the state leaders this season while playing on a new line.
"Andrew is a goal scorer," Oregon coach Larry Clemens said. "That's what he does. He will continue his goal scoring. We just need to find the right guys who can help enhance that."
Jicha, a second-team All-State selection last season, entered the week with 35 goals and 14 assists in Oregon's first 19 games this season. He stood third in the state in goals scored, according to Wisconsinprephockey.net statistics through Sunday night.
Jicha has one four-goal game and five hat tricks (three-goal games) this season. He was blanked in Oregon's 6-1 loss to Verona on Saturday night after scoring 12 goals, including two hat tricks, in the previous five games.
Shooting style
"He has a unique release of the puck," Clemens said about Jicha. "It's tough for goalies to read and to read off his stick. He has a good knack of reading soft areas and reading plays to know where to go. So when he gets the puck, he can shoot it and find ways to score.
"This year, he has been able to manufacture his opportunities more for himself at times. He's learning how to use his body a little more to put himself in those scoring positions."
The Madison area dominated the state's current leading scorers' list (reported through Sunday, according to Wisconsinprephockey.net). Middleton junior Brady Engelkes was first (38 goals), Madison La Follette/East senior Simon Kuhlow second (37), Jicha third (35) and Waunakee junior David Emerich fourth (34).
Oregon's Kyle Rohrer last season totaled a state-leading 111 points (43 goals, 68 assists) and Jicha had a state-best 65 goals — 54 during the regular season and 11 in postseason. Jicha also totaled 37 assists.
Record season
Jicha said his goals-scored total last season tied the state season record held by Mark Johnson, who had 65 goals (and 121 points) for Madison Memorial in 1975-76, according to eliteprospects.com.
Johnson played for the University of Wisconsin, in the NHL and was an integral player on the United States' "Miracle on Ice" Winter Olympics champion in 1980. He currently is the UW women's hockey coach.
Jicha often is on a line with sophomore Easton Lindert and junior Mason Anderson this season.
Jicha was on a high-scoring line with Rohrer and then-senior Joe Roemer last year. But Rohrer didn't return for his senior high school season, electing to play for the New Jersey Rockets of the National Collegiate Development Conference.
"It was something special," Jicha said. "Kyle and I grew up playing together. Our chemistry has been there ever since. He's a great player. He was great to play with. He has great vision. He sets up players nicely. Then Roemer on our line, he did all the dirty work. We had a good mix of skills and ability on that line last year."
Jicha said he wished Rohrer still played at Oregon, but "he wanted to play at the next level and he deserves to play at the next level. I'm excited for him and what he's been doing out east."
Clemens said he heard concerns before the season about how Jicha would perform without Rohrer. But Jicha has played well despite constant defensive attention, and he credited his teammates with digging pucks out of the corners and looking for him.
"I've had multiple guys on me," Jicha said. "But it's a benefit because it opens up more space for my teammates."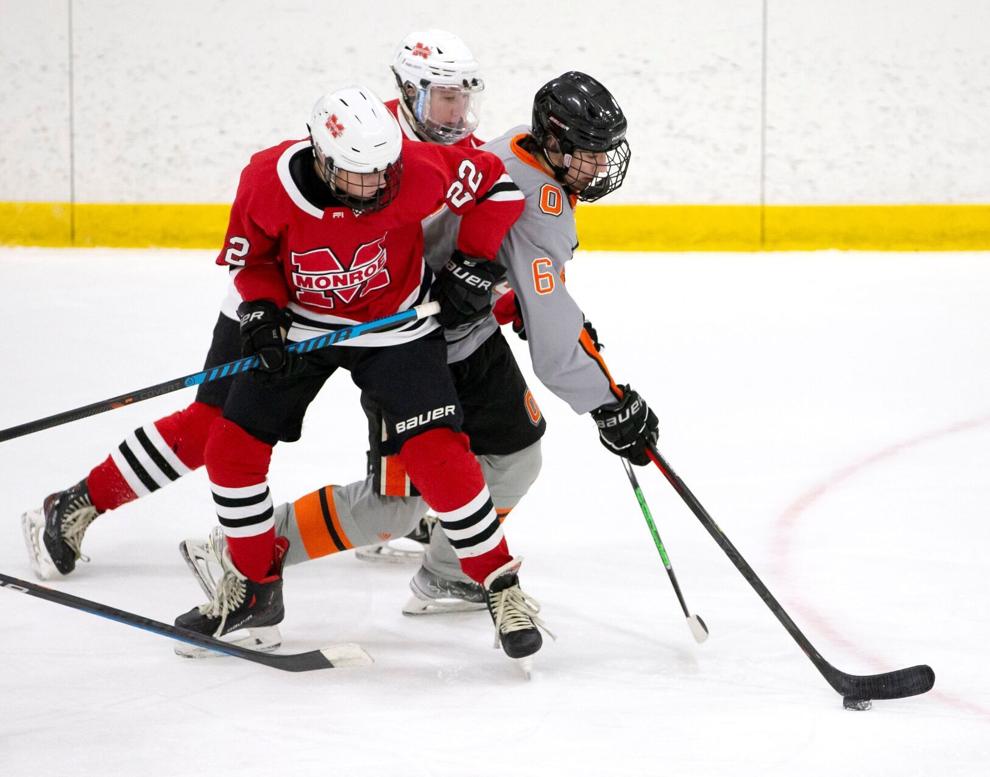 Future goals
Jicha likely will follow a similar path as his former teammate Rohrer. Jicha said he and Clemens have talked and they both want him to pursue playing at the next level — in junior hockey — next season, meaning this season would be his last for the Panthers.
"The ultimate goal is I want to play collegiate hockey at a Division I school," Jicha said.
"I have things I want him to work on," said Clemens, who's known Jicha for many years. "I know what he wants to do at the next level. I'm not satisfied yet. I'm happy for what he's doing. I'm excited for what he's doing. But if he wants to reach his ultimate goals, there are things he needs to work on. His progress has been fantastic. It's been fun to watch."
The Panthers have the rest of the regular season and then the postseason to focus on. Fond du Lac St. Mary's Springs has stood in Oregon's path to the state tournament the past three years, and the teams are in the same sectional this season.
Oregon lost to St. Mary's Springs 10-4 in the Division 2 sectional final last year, lost 4-0 in the sectional final in 2021 and lost 6-0 in the sectional semifinal in 2020.
"We have the same expectations as we did last season," Clemens said. "We have been to the sectional final two years in a row. We feel like that is a game we can get to and we feel it is a game we can win. Our end goal is to be in the state tournament, and we want to win our last game."
Oregon, which was ranked fifth in Division 2 last week by Wisconsin Prep Hockey (St. Mary's Springs was first), never has made a state tournament appearance.
"I want to leave this town with a state championship banner," Jicha said. "That's the end goal. That's what we all want. That's what we've worked for ever since we all have been little kids watching the high school team growing up."
The Panthers have a lot of work to do and improvement to make before then. But Jicha is optimistic.
"I think this is our year," he said.