The Ultimate Guide To Casper & Things To Do
Casper, situated in the center of the state of Wyoming and nestled between the North Platte River and Casper Mountain, has been a gateway to the Wild West since the 1840s when Mormon ferries helped pilgrims cross the broad river. Before 1859, when a military post of the US army was founded, the crossroads were already a significant stopping point for pilgrims, missionaries, and gold seekers on their way to Oregon, Salk Lake, and California. When oil was struck in Salt Creek in 1889, the black gold attracted many more to the town.
Today, the small city of Casper, with a population of almost 60,000, is truly an underrated place to visit, brimming with fascinating history and culture, outdoor activities, spectacular landscapes, and a variety of food to whet even the fussiest eater's appetite. For anyone making their way to the more well-known Wyoming destinations like Yellowstone National Park, Bighorn National Forest, and Devil's Tower, Casper is a perfect stop-off to learn more about the history of this stunning state.
Best Time To Go To Casper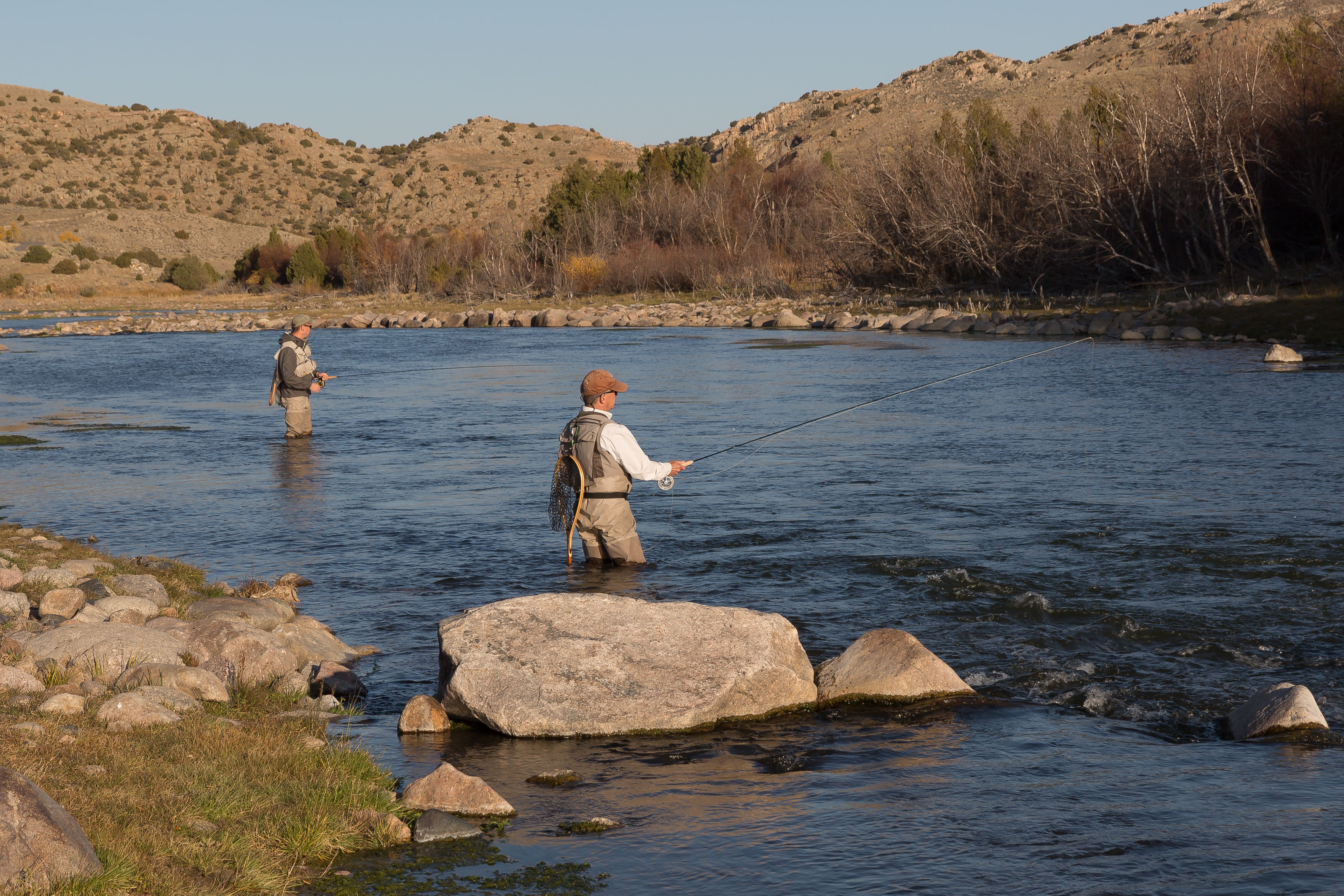 Fly Fishing, Fremont Canyon, Casper Wyoming
Casper is an excellent place to visit any time of the year and while most people flock to its natural sites and national forests during the warmer summer months, Casper Mountain, with its 50 miles of multi-use trails, offers so many fun activities in the snow.
Visitors can enjoy adventures such as cross country Skiing, snowboarding, dogsledding, snowmobiling, fat biking and even snowshoeing – for those who like hiking but don't find it difficult or uncomfortable enough.
Related: 10 Scenic Wyoming Hikes (That Aren't In National Parks)
But for the heat seekers, June, July, and August are the best months for visiting the iconic landscapes, hiking, biking, horseback riding, and enjoying the many water sports available on the North Platte River.
The busiest time for tourism is in August when temperatures average about 92.8 F (33.8C), followed by July and September. Hotels and flights are most expensive at this time but purchasing tickets in advance is a great way to save those pennies.
October, March, April, and May are slower and of course, the best time to find bargain rates.
What To Know When Visiting Casper
Temperatures can drop quickly, even in summer, so it's a good idea to go prepared with layered clothing if planning on being outdoors.
Downtown Casper is easy to get around on foot but as there is so much to do further afield, it is advisable to have a vehicle.
Top Things To See And Do In Casper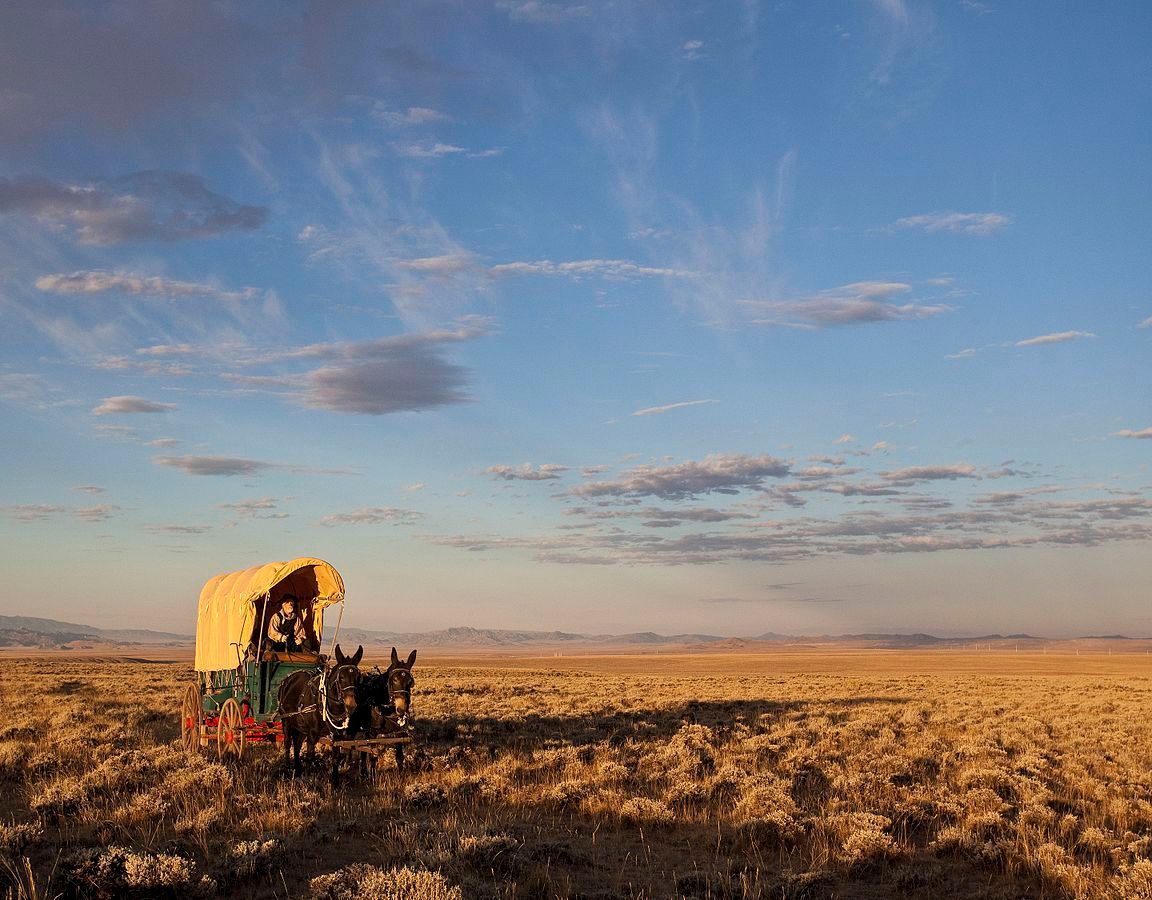 Wagon Ride, National Historic Trail, Casper
National Historic Trail Interpretative Center
For the full Wild West pilgrim experience, the National Historic Trail Interpretative Center is an essential first stop to learn about the history and development of the town.
This non-profit center transports the visitor to the trails to learn what obstacles and hardships the intrepid pilgrims faced, recreated through interactive exhibits, light, sound, and images.
The stories told come from actual journals and diaries of the pilgrims and the fatigue is written on the faces of the life-size figures.
Related: 10 Mind-Blowing Facts About Devil's Tower (You Definitely Didn't Know)
Ride a virtual Wells Fargo and Co cab along the trail or a bumpy wagon as it crosses the river before heading outside for a sweeping view over the city of Casper from the Observation Deck.
Book an evening for the Dutch Oven Supper Ride to experience the thrill of a real wooden wagon ride and an authentic Dutch Oven supper!
1501 N. Poplar St, Casper, WY 82601
Open 7 Days a Week
April – October: 8 AM – 5 PM, November – March: 9 AM – 4:30 PM
Closed on Federal Holidays
FREE to the Public
Fort Casper Museum and Historic Site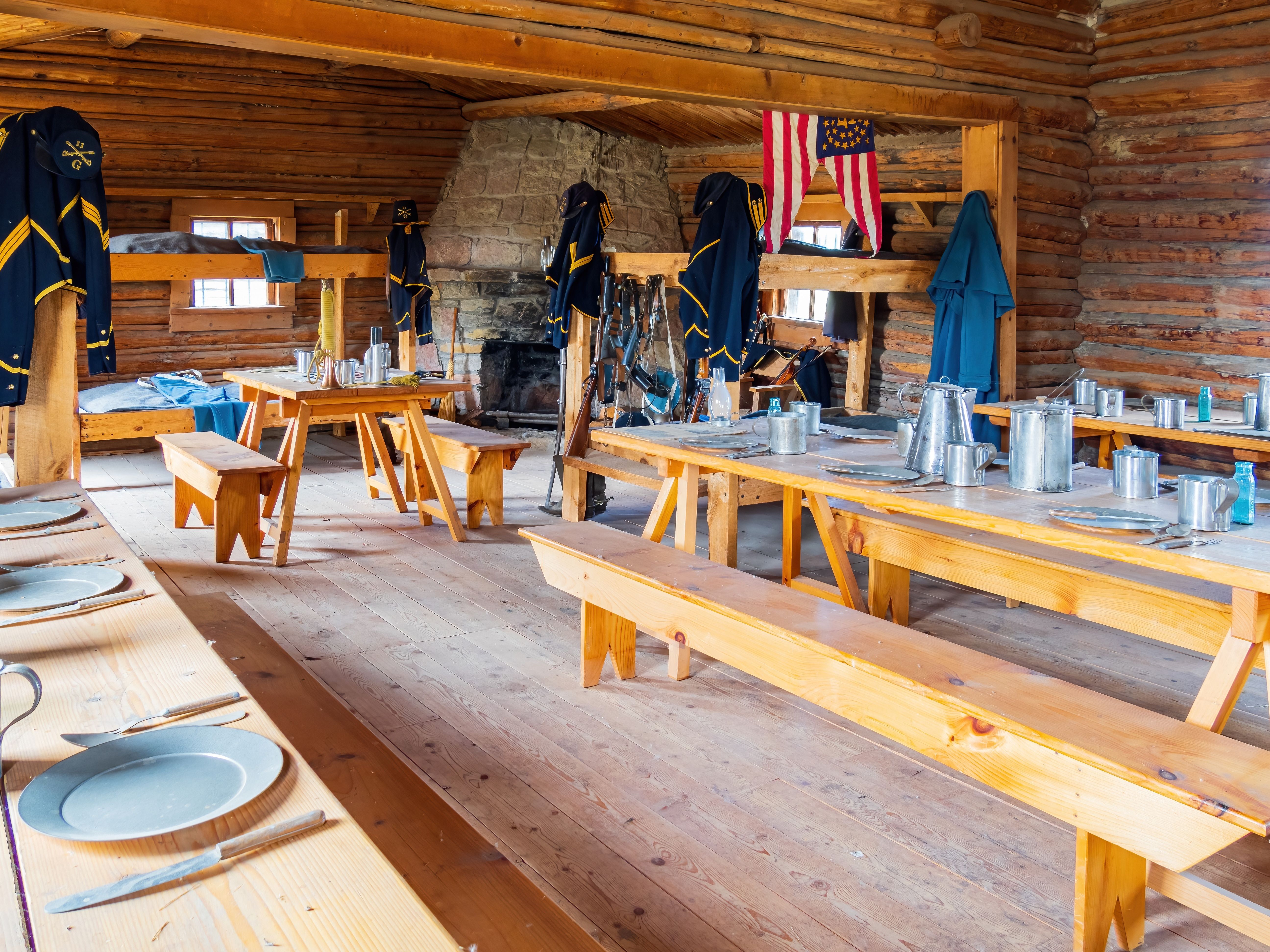 Fort Casper Museum and Historic Site
The fast riders of the Pony Express who crossed the country delivering mail were replaced by the much faster invention of the telegraph. From taking days to convey messages, it now took hours, and as a result, became an essential addition to the country's development.
The Fort Casper Museum is a fascinating look back at the life of the soldiers from the 1860s posted out here to protect the telegraph lines from hostiles and natural disasters.
The fort was built in 1865 and today visitors can visit the reconstructed fort and get a feel for how the soldiers lived and worked more than 150 years ago.
Also learn about the Plains Indians, the emigrant trails, the prehistoric peoples of the area, ranching, and the energy industry.
SUMMER – May 1 to September 30
Daily (Monday – Sunday)
Museum: 8:00 am – 5 pm / Fort Buildings: 8:30 am – 4:30 pm
Adults: $4 / Seniors (62+): $3 / Teens (13-18): $3 / Kids (0-12): FREE
WINTER – October 1 to April 30
Tuesday – Saturday (Closed Sunday & Monday)
Museum: 8:00 am – 5 pm / Fort Buildings: CLOSED — The fort buildings are locked during the winter, however, the fort grounds are accessible.
Adults: $2 / Seniors (62+): $1.50 / Teens (13-18): $1.50 / Kids (0-12): FREE
Related: You Can Still Follow The Oregon Trail Today, And Here's A State-By-State Guide To Help
The Tate Geological Museum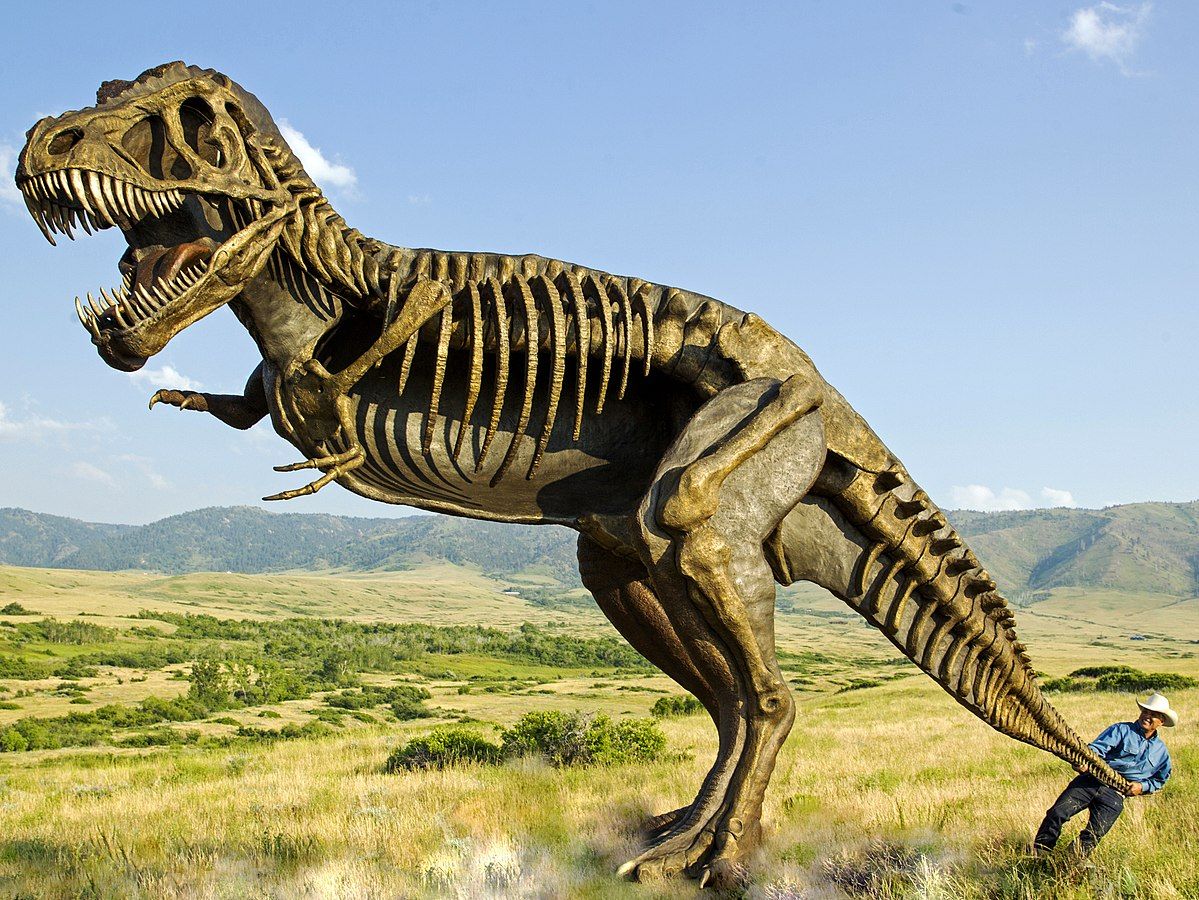 Life-size sculpture of a T Rex in the Tate Geological Museum, Casper
Going back further in time, The Tate Geological Museum at Casper College is a wonderful place to see fossils and minerals dating back to the formation of the earth.
Visit Dee, the 11,600-year-old mammoth, Lee Rex the Tyrannosaurus Rex, and the skull of Nicole the Torosaurus.
The Dino Den is a fun discovery zone where kids can be paleontologists through play and exploration. Or play the PSI (Pleisto-Scene Investigation) to determine how Dee the mammoth may have died and learn the events leading up to his discovery in 2006.
Open 10 AM to 4 PM Monday through Saturday. Closed on Sundays.
Free entry.
Located on the Casper College Campus in Casper, 125 College Drive
Casper Planetarium
For some out-of-this-world diversion, pop into the Casper Planetarium. Their 30-foot diameter dome and reclined seats will take the explorer to the distant corners of the universe. Also check out their science-themed exhibits, interactive displays, and gift shop.
Tues – Fri at 4 pm, Saturday 7 pm
904 N Poplar ST, Casper, WY. 82601
Nicolaysen Art Museum
Despite its Wild West cowboy image, Casper offers many fantastic galleries and theaters for the more culture-loving tourist.
Nicolaysen Art Museum is a contemporary art space with exhibits of permanent collections from Modernist artists such as Picasso, Dali, and Matisse as well as works from regional and national, established, and up-coming artists.
The Discovery Center is a perfect place for kids to enjoy fun art activities.
Tuesday – Friday 10 AM – 5 PM, Saturday 10 AM – 5 PM, CLOSED MONDAY & SUNDAY
Adults $5, Seniors 60+ $4, Students $3, Ages 3-17 $3, Ages 2 and under FREE, Active Military with ID FREE
Members are always FREE!
400 E. Collins Dr., Casper, WY 82601
Stage III Theatre
Support the local arts by going to see a production at the Stage III Theatre. From the classics to the more modern plays, this 'Winner of the Governor's Arts Award in 2011 for outstanding contribution to the arts offers six shows each season from September to June.
They will also be staging themed Escape Rooms soon, so check out what's on when in town.
The Ford Wyoming Center
The Ford Wyoming Center is a multipurpose venue for live entertainment such as sporting and social events, trade shows, corporate events, and fairs.
Garden Creek Falls in Rotary Park / Bridal Trail Falls
Garden Creek Falls, Casper
A couple of miles south of the city, Rotary Park at the base of Casper Mountain, provides the perfect escape to nature.
Enjoy a picnic and a short hike to the Garden Creek Falls or for those wishing to stretch their legs a little more, the 4.5-mile Bridle Trail winds its way up the mountain to Split Rock with spectacular views over the city of Casper.
Beartrap Meadow on Casper Mountain holds an annual music festival every summer and is open from Memorial Day to October.
Alcova Reservoir
The Alcova Reservoir, a scenic 30-minute drive south of Casper, comes alive in the summer months with fishing, hiking, camping, picnicking, and a plethora of water sports.
For dinosaur fans, the Cottonwood Creek Dinosaur Trail takes the visitor back to the late Triassic and early Jurassic periods with its ancient landscapes to learn more about the area's geological history and marvel at its dinosaur fossils.
Freemont Canyon
Freemont Canyon on the North Platte River is a stunning place for rock climbing, hiking, mountain biking, and fishing.
Visitors can enjoy kayaking, canoeing, and paddleboarding on the river surrounded by the soaring sandstone and limestone walls of the canyon.
Independence Rock State Historic Site in Wyoming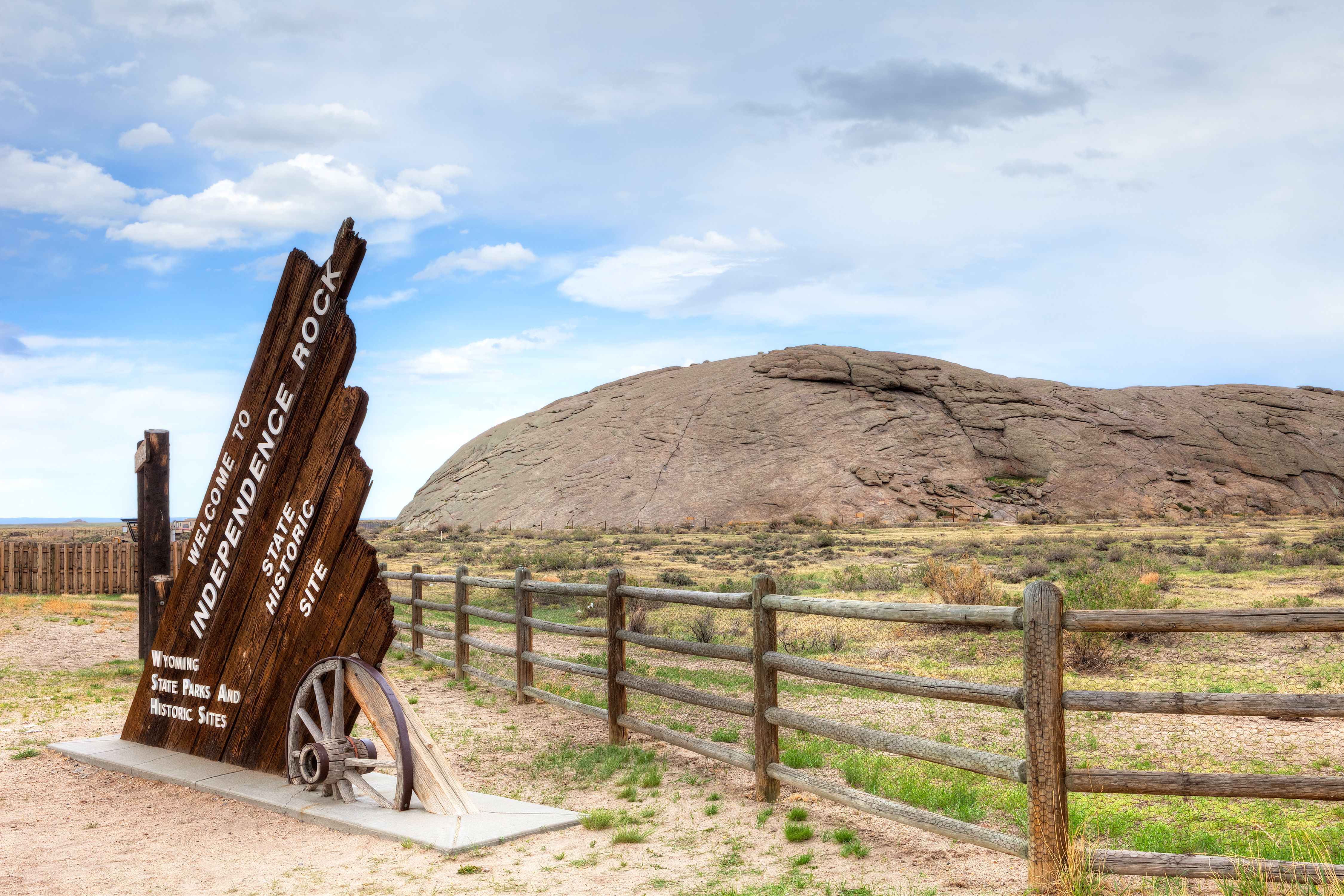 Independence Rock State Historic Site in Wyoming
Known as "The Register of the Desert" Independence Rock bears witness to the thousands of pioneers who passed through Wyoming in the 19th century.
More than 5000 names have been etched into the dome-shaped granite rock since 1824 and it served as an important landmark to the pilgrims and explorers making their way to the west.
Best Places for Shopping in Casper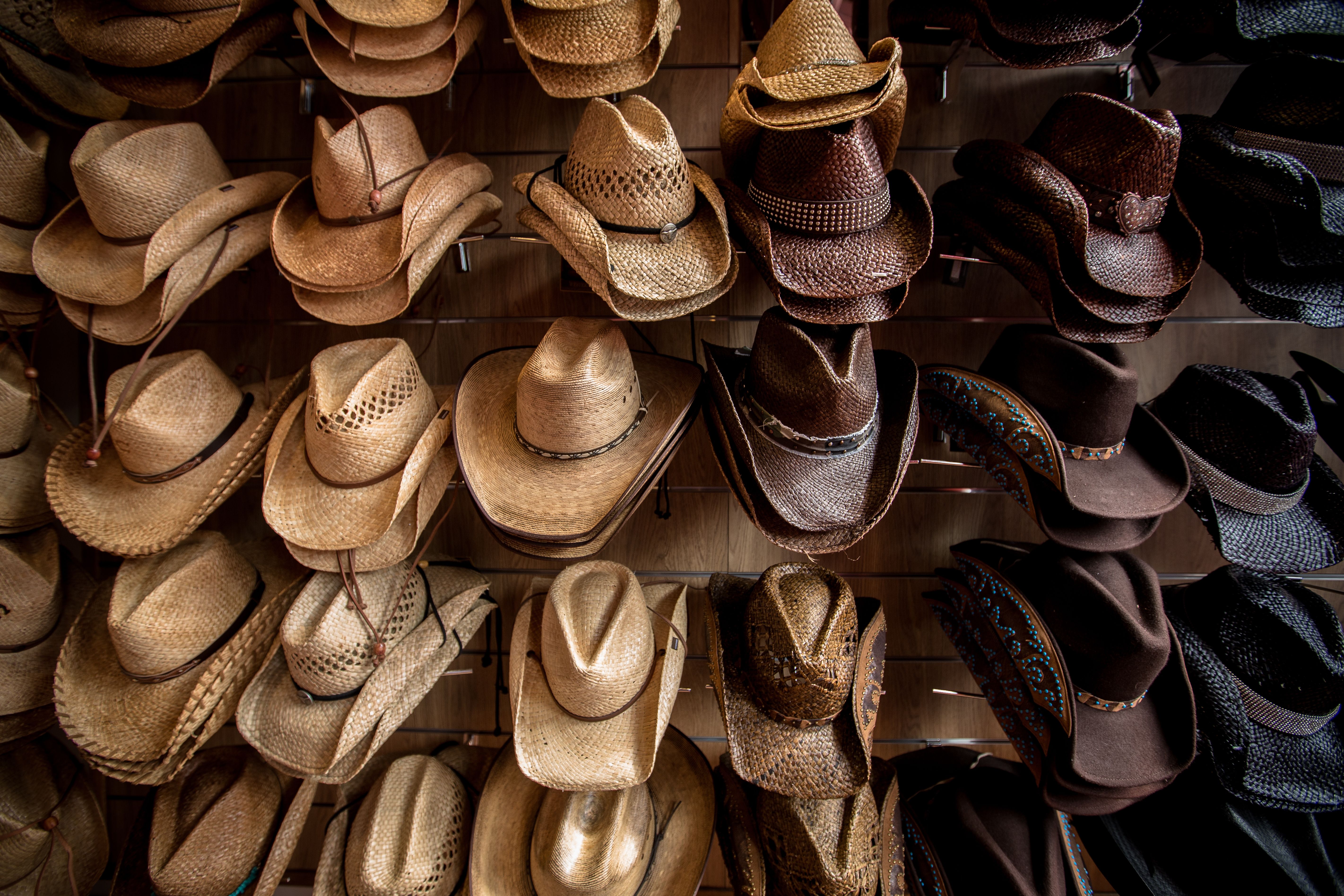 Cowboy hats
Historic downtown Casper is the place to go to pick up a Wyoming souvenir before heading home. There are a variety of stores that sell clothing, jewelry, artwork and so much more.
Other popular places to go in Casper are Eastridge Mall, Sunrise Shopping Center, Hilltop shopping center, and Blackmore Marketplace.
Related: Think You Could Survive Cowboy Days In The Wild West? Here's What They Had To Eat
Where To Eat And Drink In Casper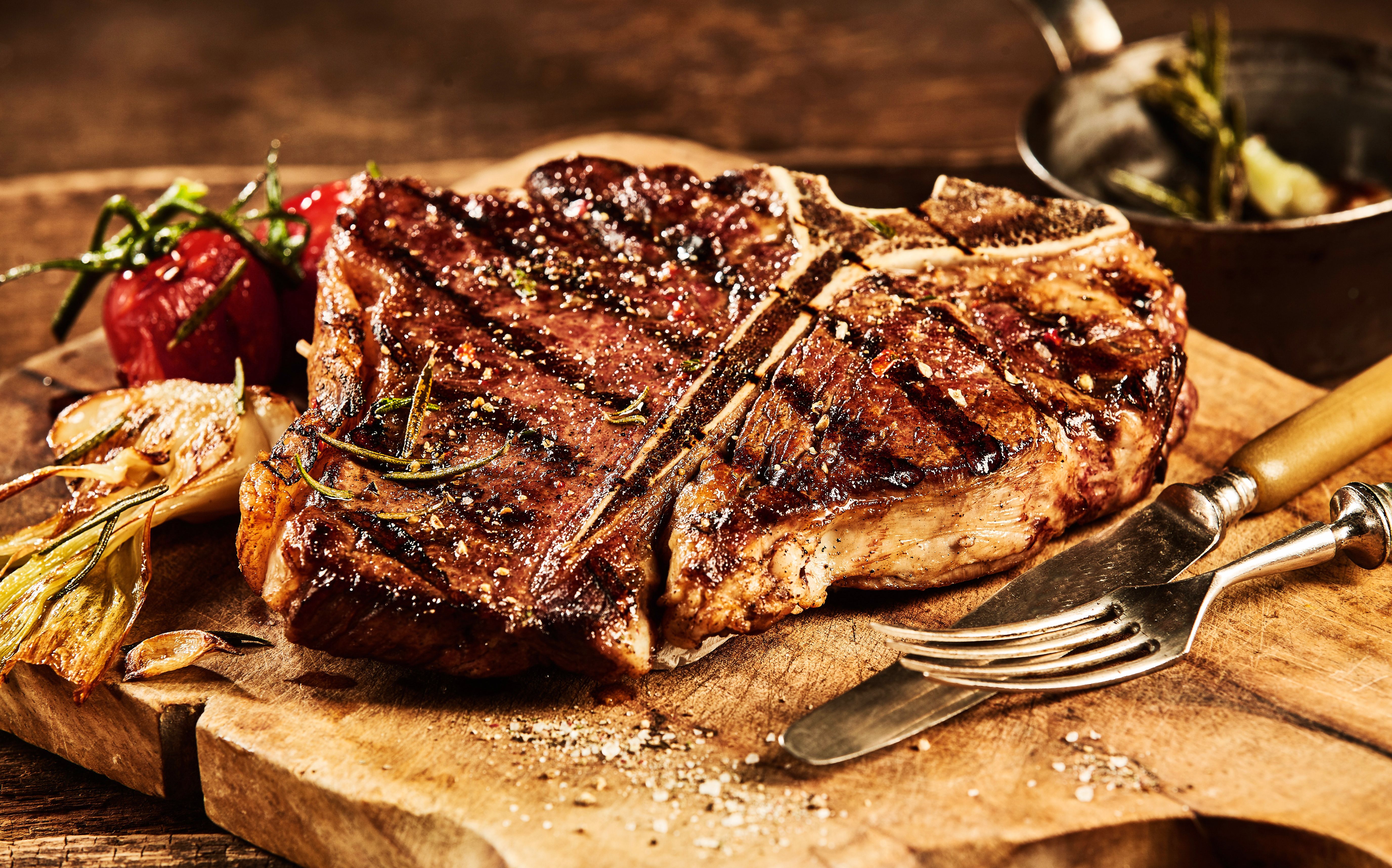 T-bone steak
Any local will recommend Eggingtons when it comes to a satisfying, hearty, and value-for-money breakfast. They serve breakfast, brunch, and lunch menus of omelets. Frittatas, oatmeal, fruits, muffins, quiches, tacos, quesadillas, burgers, salads, and a lot more.
For lunch, head to Grant Street Grocery and Market for lunch, dinner, or just a cup of coffee. The store offers a range of delicatessen-style products and lunches to die for; baguettes, sourdough sandwiches, croissants, soups and salads, and more.
For a casual atmosphere of fine dining, Silverfox Steakhouse is more than just a carnivore's paradise. With seafood and salads, incredible desserts, and a children's menu, this restaurant was voted 'People's Choice Best Overall Restaurant in 2016' by the local community.
For the beer, wine, and cocktail connoisseur, there are several places that offer great drinks and entertainment.
Where To Stay In Casper
Casper has a range of accommodations to suit all budgets and requirements, from camping and RV, hotels, motels, B&Bs, Lodges, and Airbnbs.
Where: 651 Granite Peak Drive, Casper, Wyoming 82609
Amenities: Complimentary full breakfast, indoor pool, 24 hr free exercise facility
Cost: $$
Where: 8550 South Bessemer Bend, Casper, 82604
Amenities: 3 lodging options. Situated at the base of Bessemer Mountain on the Nth Platte River. Outdoor activities, E-bike rentals, pet friendly
Cost: $$
Where: 4260 Hospitality Lane, Casper, WY 82609-2261
Amenities: indoor pool, hot tub, laundry, fitness center, events and meeting space
Cost: $$$
Best Ways To Get Around Casper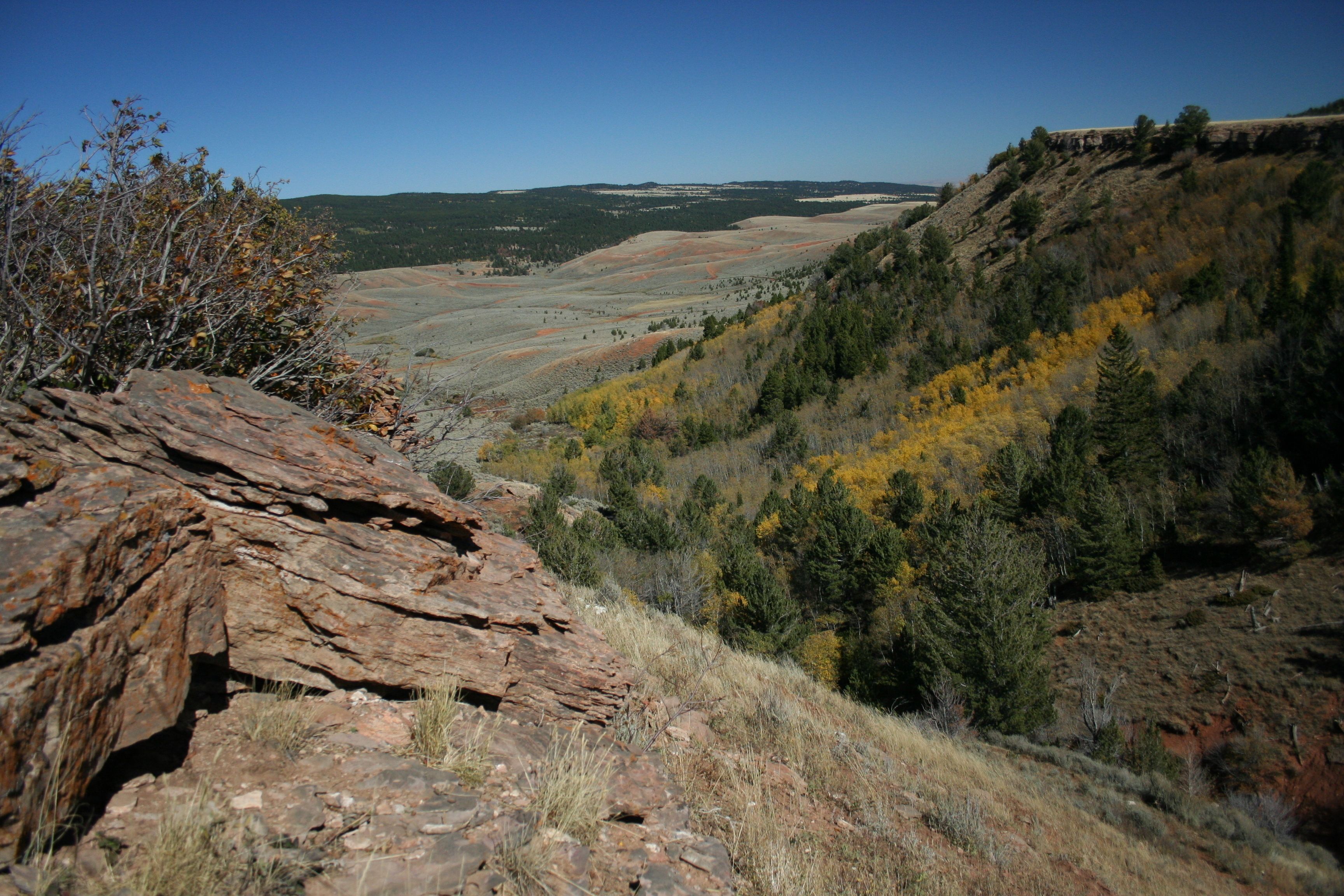 Casper Mountain, Casper Wyoming
Getting around the city is easy as there is a lot to see within walking distance, but there are also cabs, buses, Uber, and Lyft available, and of course, renting a car is a great option for exploring the areas around Casper and Wyoming.
For information about buses available, routes and prices, check out Casper Transit.
Casper currently has 23 electric vehicle charging stations at various locations around the city.
How To Spend A Perfect Day In Casper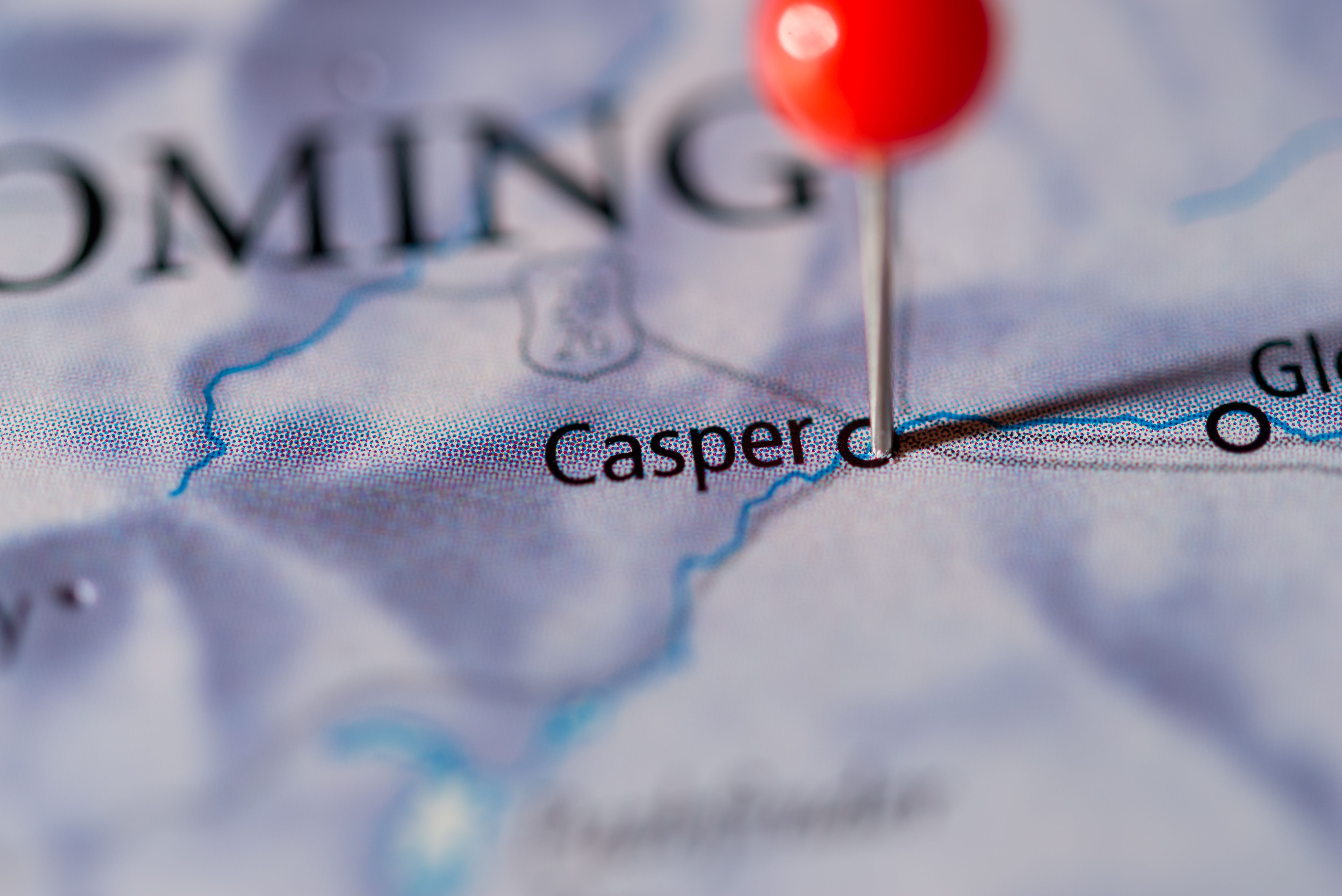 Casper Wyoming
With its barrel racing, rodeos, and ranches of cattle and sheep, it's easy to why Wyoming is known as the 'cowboy state'. But Casper, the state's second-largest city, offers so much more.
The 19th century was a decisive one for Wyoming; from its early fur trappers marking the route through the unknown west to its crucial role in the migrant wagon trains of the mid-century. It has helped shaped the country's identity and created a vibrant, inclusive, and modern cultural experience for all visitors to the state.
Whether it's fly-fishing on the North Platte River, scaling Casper Mountain, learning about the history and culture of its Native Americans, marveling at ancient fossils, wandering through the contemporary art museums, enjoying a play, or watching a rodeo followed by a hearty steak, there is something for everybody in Casper.
Finding the right mix of activities to suit each visitor's needs is easy when there are so many options.
FAQ
Q: Are there a lot of bears in Wyoming?
There are black bears and grizzly bears in Wyoming. Learning how to identify them and how to avoid contact will help keep visitors safe.
Q: Are there hot springs in Wyoming?
Wyoming has many wonderful places to enjoy hot springs. Hot Springs State Park is one of the most popular spots in the state to visit hot springs.
Q: Are there any beaches in Wyoming?
Wyoming is a land-locked state, but there are many stunning lakes and rivers that offer tourists excellent beach experiences, such as Alcova Reservoir in Casper, as well as many others.