A Travel Guide For Unique Things To Do
Last updated on January 16th, 2022 at 08:41 am
Around 60 miles west of Eugene you will find Florence, Oregon. Florence is a small city at the mouth of the Siuslaw River, with a population of around 8,900 at the time of writing this. Originally inhabited by the Siuslaw tribe of Native Americans, Florence is very popular with retirees seeking a quiet life today. While it's not quite clear where the town name originates from, some speculate the city was named after state senator A. B. Florence, who represented Lane County from 1858 to 1860. It's also believed Florence was named after a French vessel that was wrecked on February 17, 1875, at the mouth of the Siuslaw River.
Where is Florence, Oregon
Florence is on the Oregon Coast and a part of Lane County, and a favorite spot for many along U.S. Route 101. From Portland, you are looking about just under around 3 hours away, at about 171 miles distance. The town is immediately north of Oregon Dunes National Recreation Area. This coastal town offers plenty to do and is one of many great smaller towns on the Oregon Coast to visit.
Things to Do & Attractions in Florence
---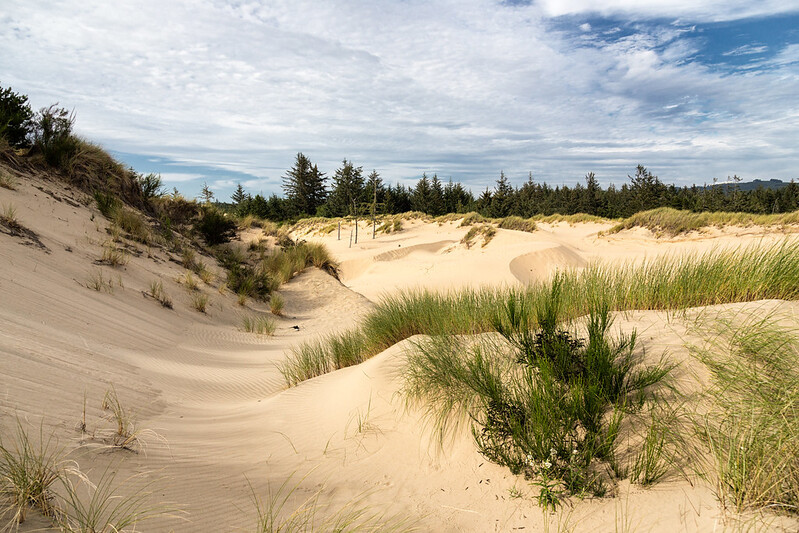 As said by this official travel site for this small town, centrally located on the Oregon Coast, Florence is a hub for adventure-seekers. Kiteboarding, riding dune buggies, hiking, sand dune expeditions, surfing, and great food are just a few things you can enjoy in Florence.
Oregon Coast Military Museum
The Oregon Coast Military Museum, a 501c3 non-profit, opened its doors in Florence,on July 4th, 2015, after a seven-year effort by locals to build a museum to honor the more-than 20% of Florence-area residents who are Veterans.  Intended to honor all eras of military heritage and all disciplines of military service, it is a small museum in comparison to other military museums around the country.
The 3,000-square-foot display space is filled with life-sized dioramas depicting scenes from WWI to Vietnam, plus a scaled diorama of a typical Iraqi village depicting a US military convoy traveling through.
Website: Here
Annual Chowder & Glass Float Trail
Made for the hardcore chowder lovers, this is your chance to try them all and vote for the absolute best. Usually, this event is hosted in February when the coastal weather is colder. Guests can grab their chowder passports at the visitor information center on Highway 101. Spot a glass float, get your passport stamped, and then enter to win one of the beautiful orbs. Modifications to the event were made last year to accommodate pandemic protocols in recent times. Stay tuned at That Oregon Life for 2022 details.
Heceta Head Lighthouse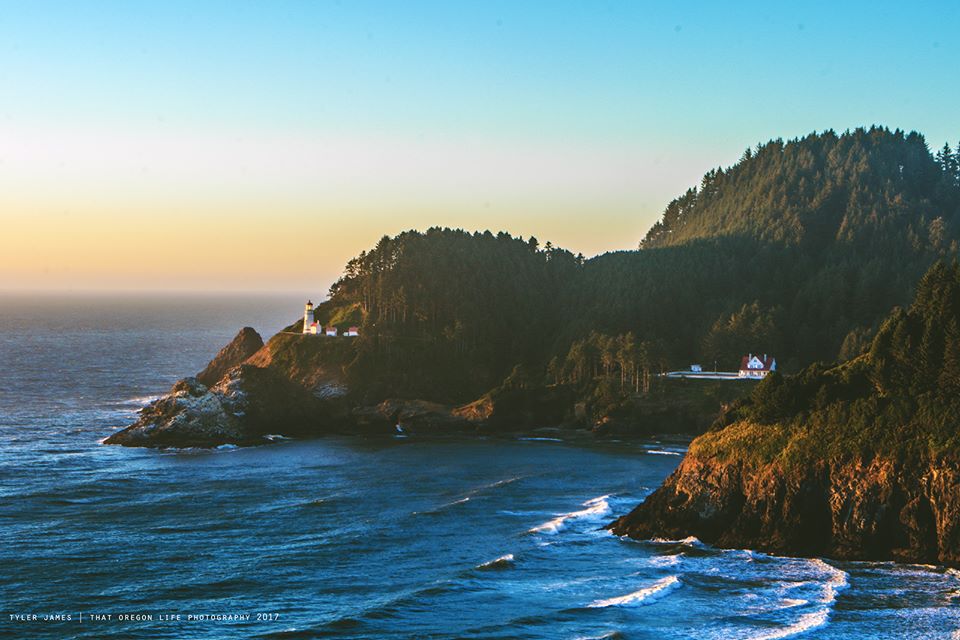 One of our favorite places on the Oregon coast is the Heceta Head Lighthouse, where you can stay the night at the Lightkeeper's Cottage.  This bed and breakfast boasts stunning views of the Pacific Ocean, cozy rooms, and has the charm to spare. This lighthouse is one of the most photographed lighthouses in the United States, and with good reason: it's gorgeous.
This working lighthouse and the Light Keeper's home are circa 1894 and are listed on the National Register of Historic Places.
READ MORE: Heceta Head Lighthouse in Oregon is One of America's Favorites
Florence Rhododendron Festival
Rhododendrons, also known as Rhodies, are gorgeous flowers that thrive on the Oregon coast and make wonderful additions to woodland gardens.  The Rhododendron Festival in Florence Oregon celebrates these beautiful flowers and shows off hundreds of wild and cultured varieties during the Florence Rhododendron Society's annual show.
READ MORE: Florence Rhododendron Festival Returning May 2022
Siuslaw River Bridge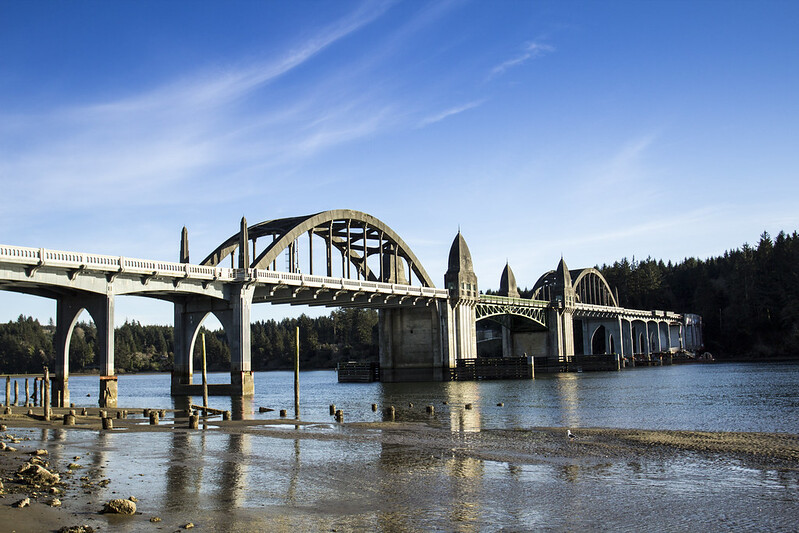 The Siuslaw River Bridge is a bascule bridge that spans the Siuslaw River on U.S. Route 101 in Florence, Oregon. It was designed by Conde McCullough, built by the Mercer-Fraser Company of Eureka, California, and funded by the Federal Emergency Administration of Public Works (later renamed the Public Works Administration). It opened in 1936.
The bridge's total length is 1,568 feet (478 m). When open, the 140-foot (43 m) double-leaf bascule provides 110 feet (34 m) of horizontal clearance for boat traffic. The bascule section is flanked by two 154-foot (47 m) reinforced concrete tied arches, identical to those used in the original Alsea Bay Bridge Four Art Deco-style obelisks house mechanical equipment as well as living quarters for the bridge operator. The total cost of the bridge was $527,000 (equivalent to $9.6 million in 2018).
---
RELATED: Here Are 12 Serene Places To Find Sea Glass On The Oregon Coast
---
Old Town Florence Shopping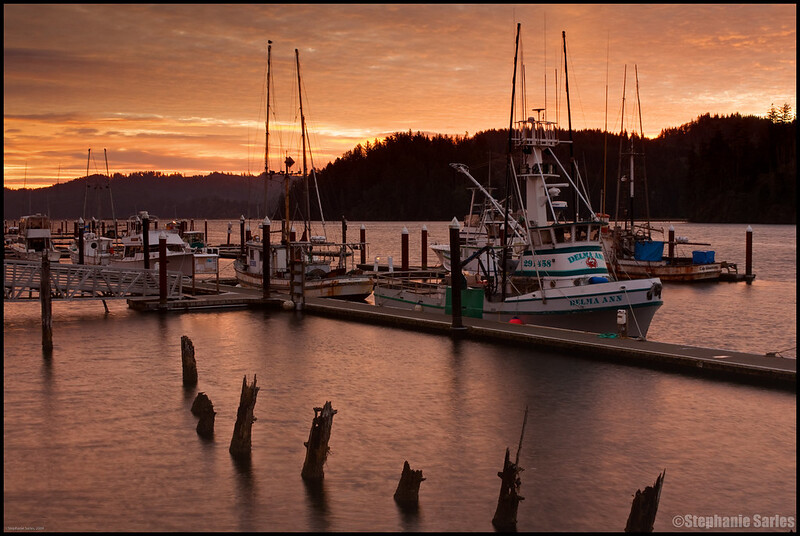 One of the finest collections of boutique shops along the Oregon Coast is found in Historic Old Town Florence.
A stroll along Bay Street offers the traditional taffy and t-shirt shops along with unexpected specialty stores including a store dedicated to olives, one jam-packed with kites, and another serving up ice cream sandwiches alongside vintage hats and gowns.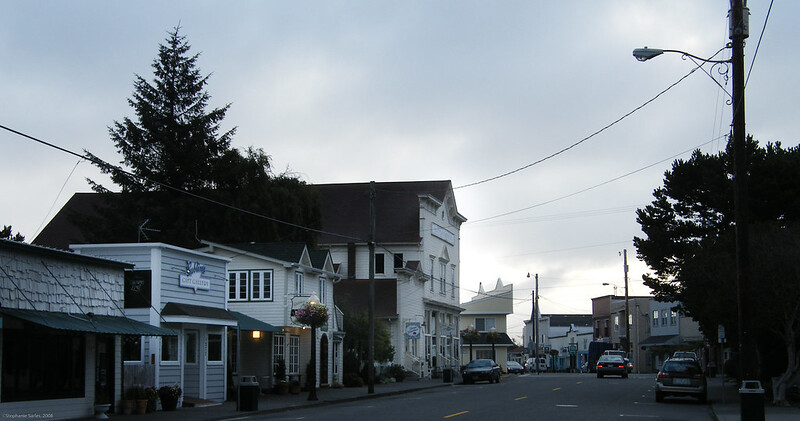 But Do You Know About The Exploding Whale?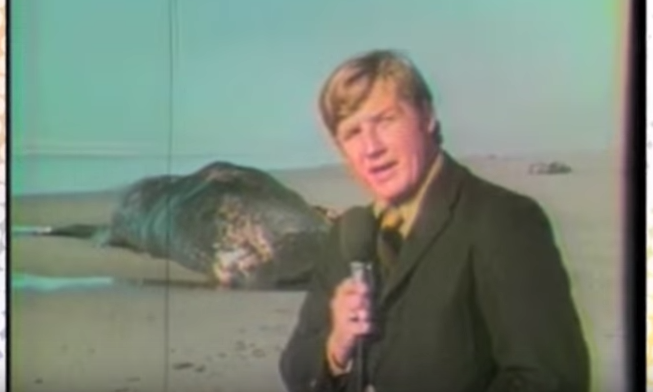 I can't make this stuff up. This. Actually. Happened.
On Thursday, Nov. 12, 1970, an event happened that put the town of Florence on the map. A highway engineer, faced with the need to dispose of an eight-ton whale carcass which had washed up on the beach, tried to vaporize it with a half-ton of dynamite, with results that most people who know about dynamite could have predicted — and did.
READ MORE: A whale exploded in Oregon in 1970, and the story will blow your mind
Shops To Check Out in Florence, Oregon
9. Wind Drift Kites
Get ready to take flight with Wind Drift Kites! The sibling of Wind Drift Gallery, this kite shop features a plethora of colorful and whimsical kites begging to take flight in the salty breeze. Take a walk around the store and you will absolutely find a kite that you'll like. Some people even say that the kite chooses the person.
BJ's Ice Cream Parlor
Who can resist ice cream on a trip to the coast? Stop in at BJ's for a cone, some fudge, or their famous saltwater taffy. BJ's has something tasty for classic vanilla lovers to those who want something a little crazier. With more than 50 flavors we know everyone will discover a new favorite.
You won't have to worry about the saltwater taffy being tough or the ice cream being freezer burnt because BJ's takes pride in the fact that their sweets are some of the best in Florence.
More info: Here
Treasure Bay – Gifts & Collectibles 
Drop in at Treasure Bay for the exquisite locally-crafted opal jewelry and find other delightful must-haves. Thoughtfully selected antiques make this a good bet on any vintage seeker's list.
More info: Here
More shops:
Sea Lion Caves
is a privately owned and the largest sea cave in the United States. This wildlife preserve and bird sanctuary (since 1932) is centrally located just 11 miles north of Florence. You won't always find sea lions here, however, they are home to the Steller sea lion. Sea Lion Caves makes it very clear they are not a zoo, so protected wild animals come and go as they please. Generally in the winter you will usually find hundreds of sea lions in the Cave, and when spring arrives the sea lions will move from the cave to the rookery areas for breeding and birthing through summer.
Website: Here
Hiking Trails Near Florence, Oregon
Sweet Creek Falls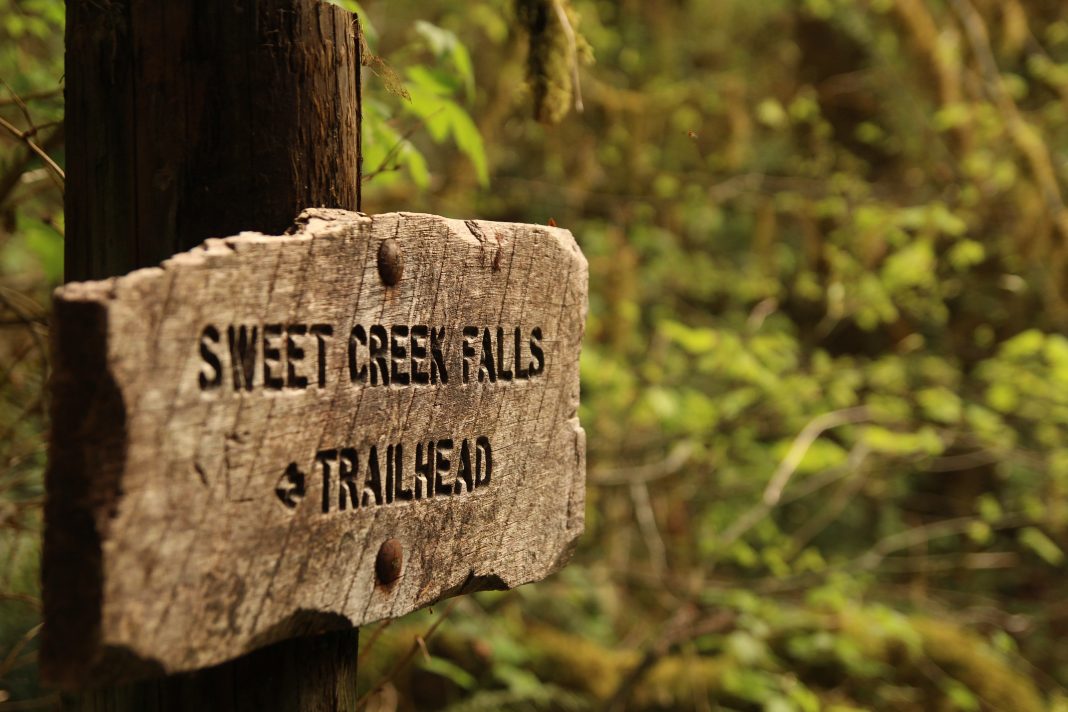 Sweet Creek Falls is an absolute must when visiting Florence. Easily one of my favorite trails, I cannot recommend this place more. With the trail only being a couple of miles long, around every corner you will find another gorgeous waterfall. At the start of the trail is Homestead, and the trail continues about a mile to Sweet Creek Falls and another trailhead. This hike is definitely on the easier side, as it's only around 2.2 miles round trip and gains just 350 feet of elevation. Sweet Creek is especially beautiful during the fall.
READ MORE: Sweet Creek Falls is One Of Oregon's Most Stunning Coast Hikes
Hobbit Trail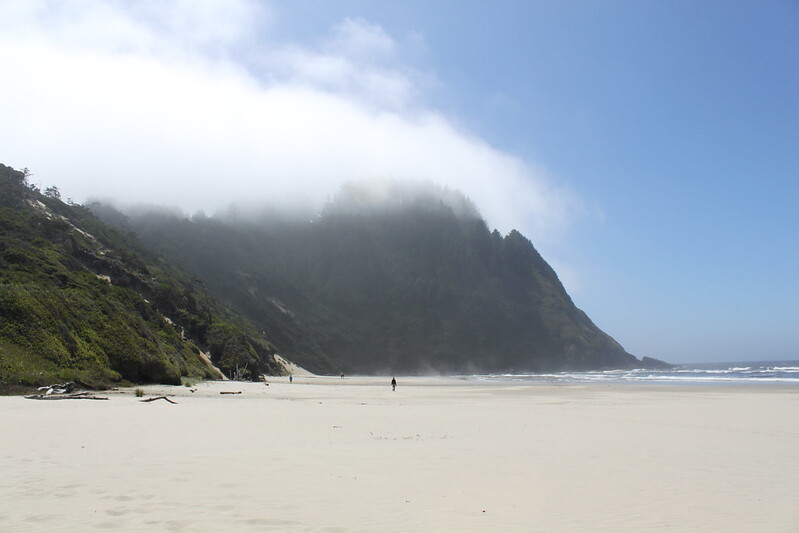 The trailhead for the Hobbit Trail will begin at a humble parking pull-out just north of the Heceta Head State Park, and you will need to watch closely as you can easily miss it. You will basically park across the highway at the China Creek Trailhead. Just a heads up, this place only allows Hobbits to hike.
READ MORE: Hike The Magical Hobbit Trail To a Secluded Oregon Beach
Where to Stay in Florence, Oregon
River House Inn
1202 Bay St, Florence, OR 97439
The award-winning River House Inn is nestled in Old Town Florence on the Siuslaw River. The River House Inn is your super-clean, comfortable, convenient home away from home in Historic Old Town Florence. You will be within walking distance of the best shops, galleries, and restaurants in town—just a block or two down Bay Street from our front door.
Old Town Inn
170 Hwy 101, Florence, OR 97439
541-997-7131
Set among the shops and restaurants of the Old Town district, this casual hotel is a block from the Siuslaw River and the Siuslaw Pioneer Museum, and 11.5 miles from the Sea Lion Caves. The Oregon Dunes National Recreation Area is just minutes away.
Three Rivers Casino & Resort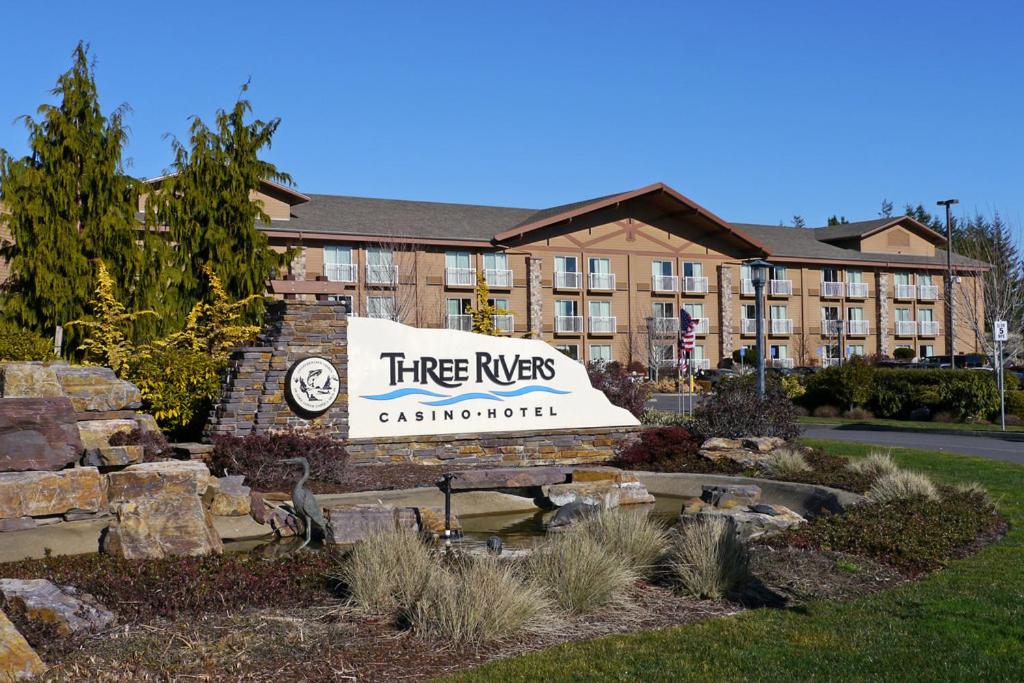 5647 OR-126, Florence, OR 97439
A Classic casino hotel offering traditional rooms & suites, plus 4 restaurants & a live concert venue.
Places to Eat in Florence, Oregon
Sweet Magnolia Bakery – Cafe
182 Laurel St. PO Box 2559 Florence OR 97439
Whether you want to start the day with a cup of coffee or drop in for dinner, this little cafe has an outdoor patio with a great view. Even dogs are welcome here, as the Sweet Magnola Cafe encourages everyone to come. Their menu has lots of unique items from unique pastries to baked goods for breakfast, lunch, and dinner.
Bridgewater Fish House & Zebra Barr
1297 Bay St, Florence, OR 97439-9648
You can't go to the coast without having seafood. The Bridgewater Fish House is a great choice if you are in the area. The Bridgewater offers eclectic cuisine featuring healthy freshly prepared house-made choices. Steaks, seafood, salads, pasta, pizza, and vegan are all options when dining here. Specialty drinks, microbrews and a huge wine selection are all available.
Website: Here
A&W Restaurant
1690 Highway 101 N, Florence, OR 97439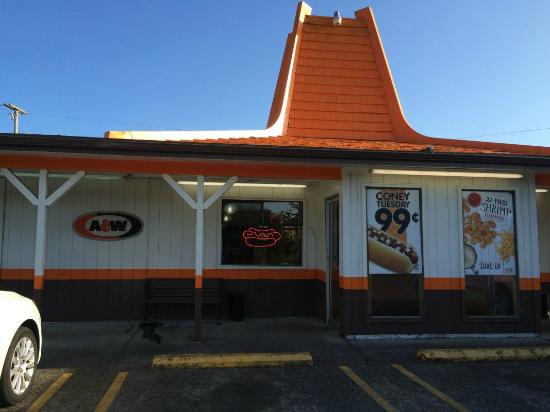 If you love curly fries, bacon, cheeseburgers, and my personal favorite root beer floats, you can't go wrong at A&W. Prices are about what you'd expect for a fast food joint. Definitely a step up from McDonalds, and A&W just has that nostalgic feel, taking me back to my childhood growing up in Oregon.
Waterfront Depot Restaurant
1252 Bay St, Florence, OR 97439-9648
Ready for some delicious local Oregon crab cakes to melt in your mouth? Or maybe you're a sucker a juicy burger and fires like myself? You will find it here. This place has just about everything you can imagine for delicious seafood in Oregon, as well as a bar. This urbane riverside bistro offers an upscale take on classic American fare & house cocktails. They pride themselves on using only local, organic beef and free-range chicken in their entrees.
The Waterfront Depot offers a full-service bar with a variety of regional and international wines as well as a selection of exciting martinis and specialty drinks, like Bill's Flaming Spanish Coffee, to compliment your meal.
Website: Here
Mo's 
Probably the most famous of all chowders is at Mo's. In 1978 this "Oregon original" from Newport opened its fifth location on the docks in Florence. Rebuilt after a devastating fire in 1983, Mo's Florence restaurant continues to be a favorite Old Town attraction. The picnic table-style diner has sweeping views of the Siuslaw River and serves up chowder, chili, and stews. Their classic chowder is a New England style made with bacon.
You can order it with home-baked bread, garlic cheese bread, or in a sourdough bread bowl. A variation is their "Slumgullion" served with Oregon bay shrimp. Expect a wait on weekends at this family-friendly hub, but browsing the gift shop will keep the little ones entertained — there are lots of fun toys for sale. And yes, you can also buy the clam chowder base to go (just add milk and heat at home).
Bridgewater Fish House & Zebra Bar
Convivial bar & eatery serving eclectic seafood & American mains amid bright, zebra-themed decor.
Novelli's Crab Chowder
Walk down onto the docks for a casual cup of amazing Novelli's crab chowder (longtime award winner). After a family fishing tragedy, the family has re-opened their crab shack, and while their hours are variable, if you are lucky they'll be dishing up chowder (and not sold out) while you are on the docks. Pull up a seat at the outdoor counter or cozy up at a table in the small indoor crab shack. Then dig into "boat-to-bowl" crab chowder. The owners catch all their own crab, selling it live or cooked right there on the docks, and serving up crab cocktail too. Their crab chowder can also be purchased to go, so you can take it home for a delicious family meal.
Camping Near Florence, Oregon
Jessie M. Honeyman Memorial State Park
Three miles south of Florence, and only a couple of miles from the ocean, Jesse M. Honeyman Memorial State Park is tucked in the dunes and an extremely popular spot for camping. This spots commonly referred to as "Honeyman," and is a great place to pitch a tent, no matter what the season. You will find the second largest Oregon state park campground here with two fantastic lakes nearby – Cleawox Lake and Woahink Lake.
Honeyman features 10 yurts, 187 tent sites, 6 seasonal group tent camping areas, 121 electrical sites, and 47 full-hookup sites. If you need firewood you can usually get it for sale nearby. Also a perk, Honeyman offers four campsites and two yurts to campers who disabled campers.
Before You Go
When Is Low Tide in Florence?
Here is a great place to check the tide before you go. Hit the link here to check monthly tide charts, maps, weather, and more.
What's the Weather Like in Florence?
Personally, I love visiting the coast in the warmer months, however, don't let that discourage you as Florence is great any time of the year. The summers are comfortable and don't generally get as hot as Eugene or Portland. Summers are dry, and mostly clear and the winters are cold, wet, and mostly cloudy. Over the course of the year, the temperature typically varies from 41°F to 67°F and rarely falls below 33°F or rises above 71°F.
More Oregon Coast Towns To Visit
We hope this article helped you plan your next trip. Don't forget to check this article out here for some awesome Oregon Coast hikes. Sign up for our email newsletter here to get the best of Oregon in your inbox weekly!